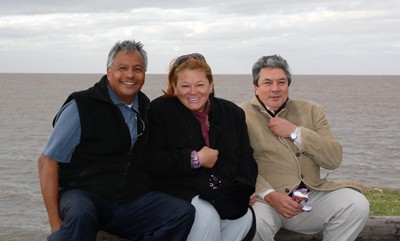 Dave with Pastor Alejandro and Marie Klinge

Project Argentina
In August of 2002, on a short term mission trip, I visited Nueva Vida Church in Bernal located in a very poor barrio/neighborhood of Buenos Aires. I had the pleasure of meeting Pastor Alejandro Klinge and his family for two weeks. What a privilege it was to have met and shared time with the people of this small church and the surrounding barrios. They are so kind, loving, and humble. I fell in love with each and every one of them, their community, and their country.
I have traveled throughout the country of Argentina and have experienced their customs, their culture, their way of living and have built so many wonderful relationships with many families and individuals. I am honored to work alongside Pastor Alejandro, his family, and the people of this community. I believe it was a divine appointment for me and God has put a great love for this church, its people, and their land.
In 2004 we started a project that would help make a brighter community while at the same time encourage and strengthen the relationship between the church of Nueva Vida and its people living in the several surrounding poor barrios. The education center will provide classrooms, a computer area for teaching and education programs. We have purchased chairs, books, music equipment, and set in place programs to help feed children before they go to school.
Our goal is a continual one and in different phases. Phase one is the completion of the Education Center on the third floor of Nueva Vida Church which at this point is 50% completed. The exterior of the structure is completed now and we need to raise funds for the interior.
Phase two will be to purchase a home and land on the east side of the building to construct and expand the sanctuary. Nueva Vida Church has grown leaps and bounds. The current sanctuary can only seat around 200 people and their members are well over 500 and growing. They have services every night of the week to accommodate each person's needs.
Phase three is to purchase a building on the west side of the church where they are presently renting in order to house and service their youth ministry and to make necessary upgrades to accommodate the children and youth of this wonderful church and community.
Phase four is to build a soccer field on the land that is on the same property of the youth building. Our goal here is to make a safe environment for the children and youth to grow, learn, build skills, and bring encouragement to one another.
We continue to raise support through fundrasing activities and personal contributions to support these goals and visions the Lord has placed in our hearts to help Pastor Alejandro and his community. If you feel you can help and want to be a part of these great projects, please visit our donate page to give. We would put in place a brick with your family name and what city you are from. What a great story to share with others that you had a part in building the foundation of each and every one of these projects! We are also taking in sporting gear donations for soccer shorts, shirts, jerseys, balls, soccer shoes etc. Be it from your children's old soccer team's or club's or store bought it does not matter to these children as it is a gift they wouldn't otherwise have.